Maui Hotels - Lahaina, Kihei, Hana, Ka'anapali Beach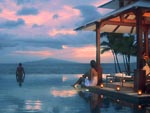 At the Wailea Beach Marriott Resort and Spa you'll be swept away by our spectacular location. Capture the panorama of our oceanfront setting with magnificent views of the neighboring islands. And for a limited time, enjoy all the pleasures of paradise with our special Hawaiian Sand Dollar Package. Wailea Beach Marriott Resort & Spa »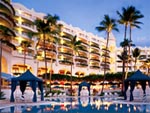 It is time to enjoy spectacular beaches, gentle ocean breezes and stunning sunsets at one of the world's most scenic places, The Fairmont Kea Lani, Maui on pristine Polo Beach in world famous Wailea, Maui. This Maui hotel is Hawaii's only luxury all-suite and villa oceanfront resort. Fairmont Kea Lani Hotel »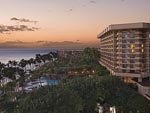 Discover the ultimate Kaanapali Beach hotel, the Hyatt Regency Maui Resort & Spa. Surrounded by 40 lush, beachfront acres, our breathtaking hotel presents an astonishing array of delightful ways to spend your days and nights. Hyatt Regency Hotel - Maui, Hawaii »
Maui Hotels
Maui's Resorts have lodging to suit any need, from suites to cottages, all equip with AC, cable, refrigerators, and access to the many activities found around the resort. Chose from a variety of restaurants for dining day or night and for desert. For the authentic and delicious celebration known as a Luau, look no further than beyond your bedroom door. The resort hosts their own special Luau entertainment ceremony, complete with dancing, music and food.
Regardless of your budget, there are some basic guidelines that can save you time and money and that you should remember when choosing a hotel for your vacation.
Traveling in a group can save money, compared to booking separate rooms for individuals. Try a room with two beds.
Don't show up without a booking, you could be subject to high rates and even be turned away.
Ask for special rates, even if none are advertised. Sometimes you can get discounts for being a student, a senior, in the armed forces, a member of AAA, or other organizations. It can't hurt to ask!
Research and find the "off-season" months, which can often bring much lower rates than high season months.
Confirm your booking with a credit card number so you will not lose your rooms. Also, check and find out the final date for cancellations without a penalty, in case your plans change.
Find out how far your hotel is from the airport and consider how much travel time will be spent getting to and from your faorite destinations. It could be worth the extra money to get a hotel that is more centrally located.
Out of the many choices of hotels in Maui, you are sure to find the perfect room. Whether you're searching for your own private balcony or your own private beach, there will be a hotel that meets your unique needs. Find inexpensive hotels to fit your budget, or a luxurious beachfront or oceanfront hotel. Enjoy the cool waters and white sand beaches at a Kaanapali beach hotel, or get off the beaten path to find your choice of hotels in Hana. Maui Hawaii hotels have it all.
Finding the Perfect Beachfront or Oceanfront Hotel
If you are coming to Maui for the pristine waters and flawless beaches, why not rent a seaside hotel and have great beach access all the time. Find the perfect beach hotel for your vacation. Of all the choices for hotels in Maui, a maui coast hotel is sure to please everyone!
Inexpensive Hotels
Cheap Maui hotels are all over the island, giving travelers a chance to see the beauty of Hawaii without stressing over price. Since resorts dominate the landscape in hotspots like Lahaina and Wailea, looking into other great cities like Kihei or Kahului is a great place to start when searching for cheap hotels. Maui can be enjoyed by everyone at reasonable prices.
Hotel Hana Maui
Hana is isolated from the rest of Maui and is truly the last undeveloped tropical paradise on the Island. Visit hotels in Hana and enjoy picturesque views of waterfalls, the rugged Hana shoreline and some of the best beaches on the island.
The most popular accommodations can be found at the luxurious and well-maintained Hotel Hana. Choose from rooms or suites in the Plantation House, Sea Ranch Cottages or Bay Cottages. Perfect for private gatherings like conferences or weddings, the Plantation house is modeled after turn of the century homes, decorated with rich and native koa wood and complete with a wrap-around porch. Your rental even comes with a private library, although it might be hard to stay inside and ignore the gorgeous Maui weather. The Sea Ranch cottages are situated on an ocean bluff and are decorated in traditional Hawaiian style dating back to plantation era and beyond. The plants that greet you at the front door are placed there for protection, and old superstition in Hawaii. The woven floor mats and 18th century woven Kapa patterns will trick you into believing that you are actually traveling back in time.
Kaanapali Beach Hotel
Hotels in Kaanapali offer perfect sandy beaches, blue ocean with the islands of Lana'i and Moloka'i off in the distance. Kaanapali is where your Maui vacation paradise begins. Choose a world-class Kaanapali beach hotel. Find the one that suits your taste *and* with your budget.
A paved beach walk connects you from your Kaanapali beach hotel to the best snorkeling spots, open-air restaurants, even a beachfront shopping complex and museum. Play 36 holes of championship golf. Get a beachside massage at your Maui beach hotel. Go body boarding, sailing or kayaking. Everything you want is here on West Maui's sunniest and most exciting shoreline.