Maui Hiking & Biking — Trails & Bicycle Tours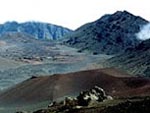 Hawaii Activities offers Maui Nature Tours & Hiking, check out the Haleakala Crater Discovery. Experience Maui's cultural and natural beauty through our guided Haleakala Crater hiking eco-adventure. We pride ourselves on our customer service and our extensive, intimate knowledge of the region and its history. Hawaii Activities - Haleakala Crater »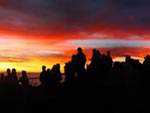 Established in 1984, Maui Downhill has guided over 500,000 visitors down Haleakala from the summit to the sea, touring over 11 million miles on our custom-built bikes. Maui Downhill offers a variety of safari bike tours. It is a breathtaking experience and there's nothing like it. Our tours and Hawaii-certified tour guides have been voted "Maui's Best Land Tour Experience". Maui Downhill - Haleakala »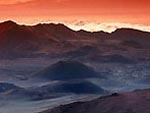 Go to the top of the world & down to the sea on this amazing all day Maui sightseeing tour from All Maui Tours! Cruise to Mt. Haleakala, see Iao Valley & visit Lahaina aboard our comfortable air-conditioned mini-coach. Roundtrip Maui hotel transportation & expert narration included. All Maui Tours - Haleakala »
Hiking in Maui
Most hiking guides pride themselves on their knowledge of Hawaiian language, history, geography and biology. You can learn so much in just a few hours as you hike through lush green canopies of leaves, or climb the dark crumbling rock of the majestic mountains. A popular hike visits the 60ft high Haleakala waterfall, beginning at an elevation of 500ft and climbing through plentiful vegetations and cooling misty air. You can go down instead of up when you visit the Maui Valley, one of the wettest spots on earth. Both full-day and half-day hikes are available, and you will be blown away by the multitude of species that thrive in this verdant environment.
Hiking is a great way to stay fit and happy, and you will be rewarded not only physically but also mentally as you learn all about the marvelous flora and fauna you see around you. It might be hard to decide which is more breathtaking, the views or the wildlife. Some of the most spectacular trails on Maui include Sliding Sands Trail, Tableland Trail (access to secluded swimming holes) and the Kahakuloa Valley Trail, which starts at an old schoolhouse and leads you past vibrant fruit tree orchards and even ancient burial caves. At 9,750 ft, the Skyline Trail starts at the top pf Haleakala and passes through the southwest rift, meeting up with the Haleakala Trail, which takes you back down the mountain, crisscrossing all the way. These longer trails may require backpacking equipment, and your night spent under the starry skies will be an unforgettable camping experience.
Haleakala Hikes
Haleakala
With an elevation of more than 10,000 feet, Haleakala is the highest point on Maui, and a must see on your Maui Vacation. Hiking in this area offers diverse trails that go through rainforests, shrubland, coastal areas and up to the breathtaking summit.
Haleakala Crater Four-mile hike
Hiking Level: Moderate
Hiking Time: 7 hours
Length: 4 miles
This hike is called the "Crater Sampler", and gives a feeling of the crater without being strenuous. You will hike part way down both the switchback trail at 8,000 feet and the summit trail at 10,000 feet. You can hike as far down as they like or sit and enjoy the landscape and the spectacular views of the North and South shores of Maui, the Central Valley and maybe even see the Big Island. Although you will not reach the crater floor on this hike, you will still feel the majesty of this volcano and the Haleakala wilderness.
Haleakala Crater Eight-Mile Hike
Hiking Level: Strenuous
Hiking Time: 10 hours
Length: 8 miles
Hike along the trail overlooking the north side of Haleakala with canyons dropping 2,000 to 3,000 feet, and panoramic views of the ocean on one side, and the crater on the other. Hike on the Switchback Halema'u trail at 8,000 ft. and decend 1,600 ft to the crater floor. On the crater floor, explore the terrain of caverns, lava, ash flows, and richly colored cinder cones and notice the unique wildlife that inhabits this strange wilderness. Hike back up the switchback trail.
Other Popular Maui Hikes
Ioa Maui Hiking Trail
The Iao Valley has been a destination for pilgrims since ancient times, when it was one of the most sacred spots on Maui. It remains one of the most beautiful places to visit on the Valley Island. The Iao Valley State Park is easy to reach on foot or by car and starts about three miles north of Wailuku, and has many miles of incredible Maui hiking trails
West Maui hiking - Waterfall hike
Hiking Level: Moderate
Hiking Time: Half day

The West Maui Mountains are actually a single extinct volcano, sculpted by more than a million years of wind and water into steep-sided canyons. A narrow valley winds into the heart of the mountain, with a river charting its course. At the end of this Maui hike, take a dip into a cool, fresh-water pool for a swim against the spectacular backdrop of a cascading waterfall 30 feet high.
Kayak, Snorkel and Waterfall Hike
Hiking Level: Moderate
Hiking Time: 6.5 hours

Do it all -- waterfall & rainforest hike, ocean kayak and snorkel -- in one 6.5-hour trip. Hug West Maui's rugged coastline as you kayak for 2.5 hours. Snorkel off the kayak with fish and large, green sea turtles. Then hike one mile along the stream through an isolated rainforest valley where you can swim under a 20-foot waterfall.
Hana Rainforest & Waterfall Hike
Hana is the most tropical area on the island of Maui. On this Maui hike, you will drive the "back road" through several different climate zones. You will hike under a dense tropical canopy, through a giant bamboo forest and past beautiful waterfalls making your way to the base of a 400+ foot waterfall. On this hike in Maui you will no doubt find a nice location to take a swim in a fresh water pool to cool off.
Maui Hiking Tips
Wear sturdy, comfortable walking shoes that will endure hiking on the rough rocky terrain.

Weather changes rapidly on Haleakala, so to prepare for your hike, dress in layers, bring a warm jacket, a hat, sunglasses, sunscreen and carry rain gear.

Carry at least three quarts of water per person per day for your hiking adventure, as well as a first-aid and bee-sting kit, flashlight, trail map, trail mix or snacks, trash bag and toilet paper.

Remember to pack out whatever you pack in on your hike.

High-altitude sickness can be common due to lack of oxygen. Symptoms include nausea, headache, dizziness and shortness of breath.
if these symptoms become severe while you are hiking, descend immediately and seek medical attention if symptoms persist.

Pregnant women and people with heart or respiratory problems should consult their doctor before hiking in the park.