Oahu Snorkeling and Scuba Diving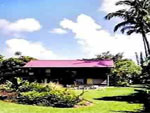 We provide a directory of Oahu Vacation Rentals. Search Oahu Vacation Rentals for Oahu Home Rentals and Oahu Condo Rentals offered by owner. Choose your Oahu home Rental from quaint Oahu Beach houses, Oahu beach villas or beachfront estates. Oahu Vacation Rentals »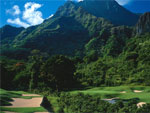 Ko`olau Golf Club was carved out of a magnificent tropical rain forest and is one of the most inspiring golf experiences you will ever play. Ko'olau Golf Club »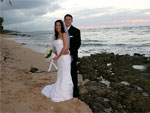 At Barefoot Weddings, we provide a laid back relaxing atmosphere. Get Married on the breathtaking Island of Oahu. Here you can discover some of the most beautiful beaches, parks and resorts in Hawaii. Barefoot Weddings »
Oahu Snorkeling
Best Oahu Beaches For Snorkeling and More
South Shore Beaches
Ala Moana means "Path to the Sea", and at this wonderful beach park you can explore over 100 acres of shore and sand. There is a picnic area with showers, restrooms and parking available, and lifeguards on duty for the safety of swimmers and surfers. The reefs offer some safety from the stronger currents beyond, but always exercise caution when venturing into unknown waters that could potentially have dangerous undertows.
Famous Waikiki beach is one of the most well known tourist destinations in Oahu, if not the entire state of Hawaii. You can easily come on a day that is overcrowded, but there are several different kinds of activities to get you into the water and out of the masses. Snorkeling, surfing, swimming and even canoeing are all options. Learn about the traditional outrigger canoes used by natives for hundreds of years, and feel transported to the days of Bing Crosby serenading the beachgoers with "Sweet Leilani" at a typical Oahu beach wedding.
Hanauma State Park is a preserve, so you can enjoy the pristine beauty of nature here while you are swimming, snorkeling or hiking up on the cliff trails. The nature education program here encourages safe and eco-friendly practices when visiting the beach, and will teach you about the incredible natural phenomena that created the bays and beaches of Oahu, like volcanic eruptions and tectonic shifts.
North Shore Beaches
Sunset Beach Park is known for its excellent surfing conditions, considered some of the best in the world during summer months. It is not unheard of to see 15-20 foot waves here. But there are also moments of calm water here at Sunset, so snorkelers and young swimmers can enjoy the beach as well.
KeWa'ena Beach and Ehukai Beach Park are both famous for their surfing spots, seen in movies like "Surf Safari" when the name Banzai Pipeline was coined for a particular break off of the shores of Ehukai. Enjoy watching the powerful swells and the daring surfers who brave them, but beware when entering the water without practice and experience. Certain times of the year find these waters quiet and calm, and then they are the perfect playground for snorkeling and just enjoying the water.
Ali'I Beach in Haleiwa is also known as the Royal Beach in Hawaiian, and is famous for its excellent swimming as well as the good surf. Just like the other north shore spots, this beach can have strong rip currents and therefore can be dangerous for unknowing swimmers. But there is a protected bay on the south side of the beach that is good for swimming when the waves are strong to the north.
Oahu Scuba Diving
Oahu Scuba Diving Locations
» North Shore Dive Locations
(show/hide)
» West Shore Dive Locations
(show/hide)
» South Shore Dive Locations
(show/hide)
» S. Shore Maunalua Bay Dive Locations
(show/hide)
» East Shore Dive Locations
(show/hide)