Best in Authentic & Traditional Maui Luaus - Lahaina, Kihei, Ka'anapali Beach, Hana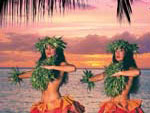 The Ka'anapali Beach Luau is our pick for "Best Discount Maui Luau Value" and for "Best Family Luau on Maui" for a number of reasons. At $59.95 it is hands down the least expensive luau on Maui. Don't let the price fool you though, this is a great Maui luau with all the trimmings. Kaanapali Beach Luau »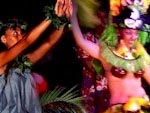 Aloha and welcome to Best Luaus where we specialize in the advance reservation of the best Hawaiian luaus and Polynesian revues in Hawaii! We offer a wide variety of nighttime shows to satisfy virtually any visitor traveling to our islands. We look forward to helping you find the perfect choice for either a simple night out or that special occasion you might be celebrating! Best Luaus »
Book your Maui Luau early. Luaus on Maui can book up days in advance. Children are welcome, even the youngest ones. Several Maui luaus have extra special rates for children. Some of the Maui luaus provide ground seating at low tables for a truly Hawaiian experience. Each luau on Maui is different. We'll help you choose the Maui Luau that is perfect for you and your family. Hawaii Fun Planner »
Authentic Maui Luaus
Probably the most popular and traditional Hawaiian activity is attending a Luau celebration. On Maui you can find several different experiences to choose from, ranging from family oriented to romantic and intimate. The typical night will include eating, dancing performances, live music, and some Hawaiian history. Sometimes guests will be invited to participate in the show, or learn some ancient Hawaiian crafts or trades. Almost all Luaus are located directly on the beach, and many offer an open bar for your enjoyment during the celebration. Maui is actually home to the first Luau, which began in 1819 when Hawaiian royalty banished ancient religious rules forbidding men and women, commoners and royalty to eat together. The name comes from a popular dish that is still enjoyed at Luaus today, a chicken and taro leaf dish baked in coconut milk.
When considering which Luau to attend while in Maui, make sure you know which individual celebrations have the activities you want for a price that you can afford. Here are a few specific details about each of these well-known venues:
Feast at Lele
One of the most popular luaus, and considered to be the most romantic, this feast runs a bit more expensive, at $105 per guest. But you will surely get your moneys worth enjoying a full service bar, a four-course meal, and incredible entertainment. This could be the perfect way to kick off your honeymoon. The four meal courses represent four different cultures that have shaped Hawaiian traditions over the years, beginning with Hawaii itself. You will enjoy gourmet Hawaiian food while dancers perform the famous hula dance. The second course represents New Zealand heritage and you will witness the fabulous dances and food of the Maori people. Third, the chanting of Tahitian musicians and the special keiki children's dance will entrance and thrill your senses. Last of all you will journey to Samoa and witness the amazing Samoan fire knife dance, often the highlight of the Lele Luau.
Kaanapali Beach Luau
Situated at the foot of the incredible Black Rock Cliff, used for diving, this beachfront luau offers amazing sunset views and a night full of award-winning entertainment. This is a very child-friendly celebration, so bring the whole family. Some agencies offer special booking deals that discount adult tickets and children under 12 are free. This truly educational experience can be enjoyed by all ages, so take a walk around the party and witness Hawaiian artisans displaying their handicrafts. Watch the main course, BBQ pig, be lifted from its underground oven and begin your feast! The buffet is extensive and filled with authentic dishes, from poi to lomi lomi salmon, but also offers American fare for the kids who won't try something new, like pizza and hot dogs. Dancing will continue into the night, even after you have finished your meal, and you will be blown away by the majesty and beauty of the famous Samoan and Tahitian dances, as well as some classic Blue Hawaiian music from favorites like Don Ho and Elvis.
Old Lahaina Luau
Often hailed as the "Most Hawaiian" or "Most Authentic" luau party, this favorite of locals and tourists alike could be the best choice for the traveler who wants to learn the true story of the hula tradition. Dance enthusiasts will really appreciate the story told through music and performance, tracing the lineage of Hawaiian dance back to ancient legends and folklore. The food and drinks at Lahaina are incomparable as well, and you can sample the "official" drink of Maui, the Mai Tai. From your fresh flower lei greeting to the rousing dance finale, you will be captured all night long by the power and grace of the Hawaiian culture.
Maui Sunset Luau
Another great experience for children and adults, the sunset luau will teach you the meaning of "ohana", Hawaiian for family. Watch the sun sink below the horizon as the party really begins, with spectacularly costumed hula girls and their athletic male counterpoints displaying their masculinity and strength. Watch the two dimensions of dance and social life collaborate to paint a portrait of ancient Hawaiian life, and let yourself be carried into the past by the drumming and pounding of the intoxicating music. An open bar serving all of your favorite drinks is available, as well as an extensive menu of delicious foods.