Maui Golf Courses - Golfing in Lahaina, Hana, Kihei, Ka'anapali Beach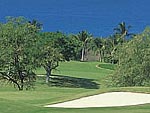 Wailea Golf Club offers a choice of three championship courses: the Blue, the Gold, and the Emerald. Wailea Golf Club is consistently ranked as one of the top golf courses in the state of Hawaii. Grand Wailea Golf »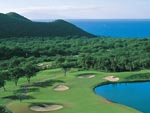 Play the extraordinary layout of the renowned Makena Golf Courses designed by Robert Trent Jones, Jr. These two unique courses boast 36 spectacular holes of the most pristine golf imaginable. Located on 1,800 acres of unspoiled coastline, both North and South courses will satisfy any golfer in pursuit of the ultimate game. Maui Prince Golf »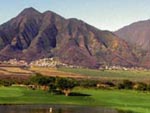 Located in Sunny South Maui just across the street from a six-mile stretch of Maui's beautiful and award-winning beaches, the Maui Coast Hotel is the only Premier Full Service Hotel in Kihei, one of Maui's favorite vacation destinations. Check out the great deals on room and golf vacation packages! Maui Coast Hotel - Golf Packages »
Premium Maui Golf Courses
In the western part of the island, look for these premium courses: Kaanapali North and South, Kapalua Bay, and Kapalua Plantation. In the south, choose from Elleair Golf Club, Makena North or South, and Wailea Blue, Emerald or Gold. In the center of Maui you can find Dunes at Maui Lani, Maui Country Club, Pukalani Country Club, Kahili Golf Club, and Waiehu Municipal.
Some of these courses are expensive, and rightly so, since they offer world-class games and take much effort to maintain. The top picks among professional players usually include Makena North and The Dunes. The Best courses connected to resorts are Wailea Gold and Emerald, Kaanapali North and South, and Makena North. For a more budget conscious player, try the cheapest courses on Maui, the Waiehu Municipal, at only $45, or the Pukalani, which can cost as low as $74. Other great values that will give you the luxury and the views for less than the exclusive clubs include Elleair for $99, The Dunes for $102, Kahili for $110, and Wailea Blue for $159. You will often be charged a separate golf cart fee and consider the cost of renting clubs as well, unless you brought your own from home!
The courses at Wailea are rated among the top in the country, and you will see for yourself why when you visit its emerald fairways. They offer several convenient amenities like a pro-shop, a golf school, restaurant and locker room and lounge. Book your tee-time online and avoid a wait when you arrive. You can arrange to rent clubs, shoes and a cart once you get there and there are often package deals to save you money on game rates and all of the necessary equipment. Your golf experience in Maui will change the way you play, and will make you want to come back every year to play on those gorgeous and challenging greens.
Tips For a Day of Golf
Sunscreen is an important piece of equipment to remember when golfing, especially on a sunny day in Maui. Regular sunscreen is sometimes not enough to prevent a burn or even skin damage when outside unprotected for hours at a time, so come prepared with a hat and glasses; even your eyes need protecting!
Make sure you are well versed in golf etiquette before you step out onto the green. There are some simple but important rules that seasoned golfers consider second nature, but for beginners could come as a surprise. You won't want to offend your fellow players so ask the pro shop for a list of course rules and even their dress code.
Golf lessons can make your special game at one of Maui's best courses that much more memorable. You will want to play your best, so take some time to improve your skills or learn some tricks from pros that have been playing the courses on this island for years.
Research the course you will be playing ahead of time. Read up on the different holes and you might even find some pro tips from course designers and championship winners who have frequented the courses. You will still enjoy the game and you won't be surprised by that nasty sand trap!
Weddings on Golf Courses
For couples that love to golf together, a wedding or honeymoon package at one of these marvelous courses could be the perfect way to spend your time in Maui. The expansive and manicured lawns of a golf course are ideal for large wedding ceremonies, and many of the larger luxury courses have banquet halls or restaurants available for your reception or rehearsal dinner. A honeymoon for golf lovers has to include a special game for two, perhaps teeing-off at twilight for a special romantic touch. Most course are connected to resorts and offer deals that include a room, rental car, golf reservations, dinner and breakfast at the course or resort restaurant and access to all of the additional amenities and activities at the hotel.
More about Maui Weddings»