The Best Authentic Traditional Hawaiian Luaus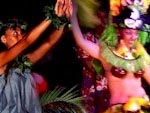 Aloha and welcome to Best Luaus where we specialize in the advance reservation of the best Hawaiian luaus and Polynesian revues in Hawaii! We offer a wide variety of nighttime shows to satisfy virtually any visitor traveling to our islands. We look forward to helping you find the perfect choice for either a simple night out or that special occasion you might be celebrating! Best Luaus »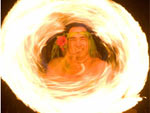 Tom Barefoot's Tours offers a Hawaiian party unlike any other. Food, drink, dance, music and much aloha. Hawaii is the only place where you can attend truly authentic Hawaiian luaus. We highly recommend that you attend a luau while you're on Maui. Tom Barefoot's Tours »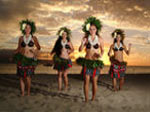 Make sure you book a seat at a traditional Hawaiian luau to taste local cuisine and watch Hawaiian entertainment. Viator has all the best luaus offered on the island at the best prices!
Viator Hawaiian Luaus »
History of Hawaiian Luaus
Luaus are traditional Hawaiian celebrations that are used to mark significant events. Originally these feasts were called 'aha 'aina and were celebrated during such events as a child's coming of age, or the return of warriors or adventurers home from long journeys.
The rituals and foods of the early 'aha 'aina were extremely symbolic to ancient Hawaiians. The event was meant as a way to unite those who participated in it. Each food eaten at the celebration had a meaning, some were to represent strength or courage, while others were indicative of other goals, virtues, or aspirations that participants were seeking to obtain.
The term Luau was coined in 1819, when King Kamehameha II abolished the traditional religious practices that forbade women to eat with men or to eat certain delicacies. A feast where the King ate with women was the symbolic act which ended the Hawaiian religious taboos. At this feast one of the main dishes involved the wrapping of chicken in the young leaves of the Taro plant and baking it in coconut milk. This dish was called 'Luau' and as a result of its being one of the main courses of these feasts, the feasts themselves came to be called Luaus.
The Modern Luau
The modern luau is a form of the ancient 'aha 'aina, and is performed today by Hawaiian families to celebrate important events like weddings, graduations, and children's first birthdays. Among people from Hawaii, the concepts of "luau" and "party" are often blended, resulting in luaus for many occasions!
A luau is a Hawaiian feast featuring food, such as poi, kalua pig, poke, lomi salmon, opihi, haupia, and beer. There is also entertainment, such as Hawaiian music and hula.
Commercial Luaus
When you visit Maui, you must go to at least one luau. Some of the best luau food and Polynesian entertainment in the Islands can be found at "commercial" luaus. These guys make a business out of making sure you have a great time!
There are numerous commercial luau productions, which generally consist of dinner and Hawaiian or Polynesian dancing. Some of these productions are held at hotels, usually outdoors (weather permitting), and some are held at private locations without any connection to a specific hotel. See what luaus your Hawaii hotel or Hawaii condo has to offer and reserve your spot at an authentic luau today!
Maui Luaus
Maui luaus are the most popular Maui activity! Any Maui vacation should include at least one Maui luau. There are many different Maui luaus, each aimed at a different type of experience from the small intimate luau to large luaus for the whole family. If you are interested in Hawaiian culture and history there are more traditional luaus to experience as well. Look no further for best Maui luau at the best deal for you.
Maui luaus are often hosted right by the beach with incredible sunset views. A Maui luau is a must for any Maui vacation. The luau shows differ, but they will all feature various forms of Hawaiian song and dance, feasting and fun.
Check out these Maui discount Luaus!
Big Island Luaus
You have traveled so far to come to Hawaii and you should not miss one of the most famous cultural activities that this ancient island has to offer. Big Island luaus will open your heart and mind to the Polynesian experience, but only if you make sure to book your reservations ahead of time! This island does not offer the largest number of luaus, and often only on certain nights of the week. If seeing one of these magnificent performances is your vacation dream, don't make the mistake of arriving too late to be included in the festivities. You will not want to miss the awe-inspiring fire throwers, exotic dances and entrancing music. Check ahead of time and make sure you will be free on Friday night, when most luau feasts take place. Ask the hotel or resort about their recommendations; there are a few very famous luaus that will really be worth the cost, if you can find them. Some special packages allow you to book attendance to luaus happening near or actually at your hotel or resort, which makes it easy to spend your first night on the Big Island at one of these fascinating celebrations of Hawaiian life and spirit.
Lanai Luaus
You came to Hawaii to pamper yourself, and you can do it properly on the gorgeous island of Lanai. Attending a luau is one of the best ways to treat your family or partner to delicacies and entertainment, and the perfect way to spend your fist night in this tropical paradise. Beginning with a warm welcome and a lei around the neck, your night will unfold among rich culture and traditions. The history of Luaus dates back to the kings and queens of Hawaii who ended religious intolerance by eating forbidden foods and sharing with each member of the community, even women. You can journey back to ancient times at one of these authentic modern recreations of the royal splendor of yore. Music has always been an important part of Hawaiian tradition, and at a Lanai luau you can spot instruments like steel guitars, wooden drums and ukuleles.
For the traveler with a sweet tooth, you will enjoy some sumptuous deserts from the native culinary arts, like guava chiffon pie, pineapple upside down cake, lots of coconut sweets and chocolate macadamia nut cake. Even juicy slices of fresh mango alone will satisfy your sugar cravings. The many flavors will blow your mind and make your taste buds break out in the hula! You can learn to hula too, just watch the professional dancers who will perform at your luau, and they might even lead a dance lesson for their guests. You will never want this festive feast to end as fire dancers and drummers keeps you entranced and enthralled late into the night.
Oahu Luaus
You will want to find the most authentic Luau when you are visiting Hawaii, and looking for them on Oahu is the best way to start. There are four main options, which range in theme from romantic twilight to authentic heritage. Find a luau for you and your partner or something that the whole family can enjoy.
Some of the most respected Luau celebrations, attended by tourists and locals alike, can be found on the island of Oahu. Traditional costumes and choreographed dances will enthrall the entire family, and you will find yourself swept up into the rich and mysterious world of ancient Hawaiian culture. Education is one of the valued missions of these luau performers, and they will invite you to observe, learn and participate in their time-honored traditions of fishing, cooking and craft making. Adults and children alike will come away with respect for the unique people whose home you are visiting for your vacation.
Molokai Luaus
If you came to Molokai looking for the infamous Luau celebration, you might be disappointed...this quiet island is known for its lack of the tourist attractions that dominate many of the other Hawaiian Islands. But the magical legends of Molokai will most certainly surpass your expectations and lead to fascinating discoveries. Local history tells the tale of the birth of a thrilling dance tradition, on this very special island that the goddess Laka chose to bless with the gift of Hula. Find one of the unique hula dance performances on Molokai and you will not be sorry that you chose to come to this tranquil Island that has been a spiritual destination for many curious travelers before you.
A special festival takes place each May to celebrate the legend of Hula's birth, known as Moloka'i Ka Hula Piko. On a sacred hill, the legend states, Laka fist taught the native islanders how to dance hula. The largely native population of Molokai still reveres this tale and remembers the history with this lively and spectacular festival. A visit to this cultural event will be just as meaningful and rewarding as a Luau on one of the bigger islands in the chain.
Kauai Luaus
The famous Hawaiian feast known as the Luau is truly a delight for any epicure with a desire to explore the wide array of Pacific Island delicacies. You will be surprised to learn the many different cultural influences that have shaped the menu at your Luau, ranging from Korean, Vietnamese and Chinese to Japanese, Filipino and Thai. Bringing together all of these unique culinary traditions is sure to be a veritable carnival of the senses, and this is the reason why Luaus have gained such fame and distinction. You can be sure to find at least some of these Hawaiian staples at any Kauai Luau: fresh pineapple, sweet and bursting with flavor in your mouth, smoky kalua pig straight from the fire, delicious lomi salmon, and regional dishes like poke, poi and pipikaula. You won't want to skip any course, since you came all this way to experience the exotic traditions of Hawaiian food.
Luaus differ from one another in various ways; some offer participation dances and crafts while other specialize in exotic and large menus. Before you purchase advance tickets to one of these celebrations, make sure you browse through the list of included activities and you will be able to pick the program that fits your tastes. With children in mind, you can find Luaus that specialize in family fun, while others are intended for adult guests and offer extended bar options and late night hours.