Car Rentals in Hawaii
Budget, Luxury, Exotic, Green - the Best Deals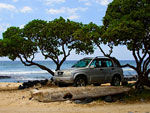 Hawaii car rental specialists. Affordable corporate rates from Thrifty, Budget, Avis, and Dollar rental cars. Receive our negotiated and discounted corporate rates. Hawaii Car Rental Discount »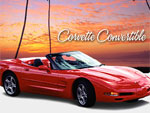 Island Riders is Maui's oldest and first motorcycle rental company. We offer exceptional value and service from two Maui locations, one in Lahaina and the other in Kihei. We also rent mopeds, Jeeps, and cars. While our motorcycle fleet consist primarily of Harley Davidsons, we also carry a select line of Honda bikes too. Island Riders »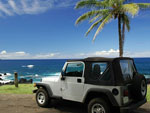 Our lowest (regular season) discount rate available is ($225.00) per week or ($45.00) per day. If you request extra drivers we are likely book with one of our discount providers, as our contract with them allows extra drivers at no cost to you.
Jeep Hawaii »
Hawaii Car Rentals - Cheap Deals and Packages
Choose your rental car from a variety of major agencies waiting for you at the airport, including these most popular companies: Hertz, Dollar, Avis and Thrify.
Or you can go through a locally owned company; these often offer discounts and special rates, even if they are just hooking you up with one of the big names. The service is often very thorough and employees are eager to make suggestions of activities and local spots to visit or dine. Some islands and cities are smaller and will offer fewer options, but you can benefit from this by perhaps avoiding the hassle of a rental car and just enjoy the town on foot. Or you can rent a bicycle or scooter to cut on gas costs and parking stress. If you want to save money these two options could be perfect for you and your family. They also have the appeal of being eco-friendly and great ways to exercise.
On the bigger islands you will want to make sure you have the ability to get from place to place, and explore the inland treasures, which can be hard to get to without a car. So finding a package deal that includes airfare and a car rental will really be an easy way to plan two of the most crucial modes of transportation at the same time.
Renting Luxury and Exotic Cars in Hawaii
Traveling in style is what Hawaii is all about! You don't have to take a shuttle bus or brave the hot days on foot, just treat yourself to a luxury ride in an exotic rental car. If you don't know where to start, just find one of the helpful local agencies that will help you pick from their large selection of luxury cars and get you on your way to tour the sights of Hawaii. From Ferraris and Corvettes to Hummers and Harley Davidson's, there are so many options to choose from and you will be glad you decided to tour the island in class and comfort.
Renting an isolated and private luxury home for the week? You will need a fast and easy way to get there from the airport and there is no reason why you should have to wait through the hassle of lines and forms at the airport. Get picked up as soon as you step off of the plane! You want to get yourself settled in and ready to be pampered.
Eco-Friendly / Green Car Rentals in Hawaii
You are visiting one of the most beautiful and diverse eco-systems on the planet, why not show your respect for the environment by renting an eco-friendly car on your "green" vacation? Bio-diesel car rentals are available on some islands, and you will find all of the same conveniences of a normal car with the added benefit of fuel efficiency and that priceless feeling of knowing you are being kind to nature at the same time!
Another way to cut down on gasoline use and pollution is to rent a bike on your vacation. With rates for the day or a whole week, you can pick any type of bike you want, from road and utility to cruisers and family-friendly bikes for travelers of all ages. A scooter or moped is a speedier option that will still save money on gas and make it easy to find a parking spot in downtown Honolulu or Hilo.
Renting Special Interest Cars in Hawaii
On those unpaved dirt roads that lead deep into the forest or along secluded beaches you will want to feel safe and capable in a utility vehicle that can handle any terrain. On smaller and more isolated islands these types of rental cars can come in handy. Jeeps, Hummers and SUVS or trucks will be the best choice for a traveler who wants to experience the rugged beauty that Hawaii has to offer. Tourists who are hindered by small city-dweller rental cars often overlook these more extreme adventures, and you don't want to miss out on any of the amazing opportunities to enjoy this tropical paradise.
You can rent all sorts of vehicles, like off road Jeeps and ATVs (all terrain vehicles) for plunging into the wilderness. Interested in some extreme sports? Rent a kayak or surfboard and drive down to the beach where you can spend the whole day in the magnificent waters that make Hawaii such a delightful place to live and play. Renting a motorcycle can be the perfect way to really experience the outdoors, with no walls or windows to protect you from the elements. Feel the hot sun beating down or the mist humidity that drapes over the lush landscapes. Be sure to check out the rules for operating any kind of special vehicle before you rent, you may need to obtain a license before leaving home.